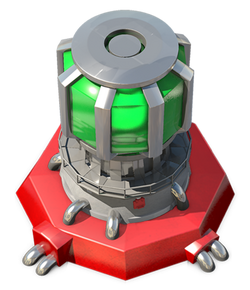 "Blowing up the Power Core sets off a chain reaction that destroys the whole base!"
General Information
Trivia
The Power Core has no levels. Its base health is always the same, so Ice Statues and Shield Generators are the only things that scale the health of the Core.
If a Power Core is destroyed by the death of a Scorcher, the building will be obliterated. However, any Defense or Power Cell that stands after this occurrence will remain alive, leaving the base incomplete.
Statistics
Input total Statue bonus to modify the statistics in the table below accordingly
Building Health
+
%
| Building Size | Health |
| --- | --- |
| 7x7 | 200,000 |
Ad blocker interference detected!
Wikia is a free-to-use site that makes money from advertising. We have a modified experience for viewers using ad blockers

Wikia is not accessible if you've made further modifications. Remove the custom ad blocker rule(s) and the page will load as expected.