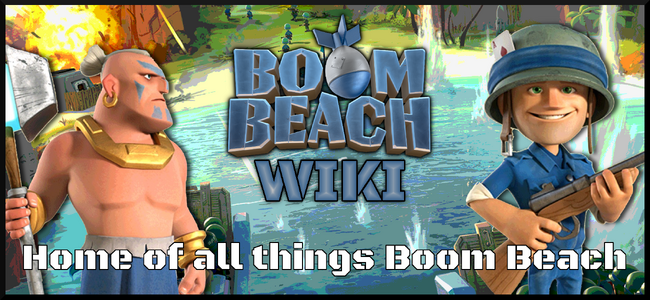 ---
| | | |
| --- | --- | --- |
| Storm the beach and win the day! Boom Beach is a new combat strategy game for iOS and Android created by "Supercell". Fight an epic war against the evil Blackguard. Take your expeditionary force to beautiful paradise islands invaded by the enemy. Fight for every beachhead, free enslaved islanders and explore the uncharted archipelago. The fight becomes a race to harness the ancient powers hidden on the islands. Are you ready for the BOOM? | | Although Boom Beach is Free-to-Play, additional in-game currency can be purchased for real money from Apple's iOS App Store or Google's Play Store in the form of In-App Purchases. However, all features of the game are open to players who choose not to make In-App Purchases. |
---
---
Page protection
| | |
| --- | --- |
| | Administrators only |
| | Registered members |
| | Anyone can edit |
Stoplights can be found beside the 'Edit' button on most of the pages on Boom Beach Wiki. They represent the level of security protection that is present on that page.
A green light means that it is a community page and can be edited by anyone.
A yellow light means that you need to be a registered member that no longer has the "new editor" tag next to their name on their user page in order to edit that page.
A red light means that you need to be an Administrator to edit that page. Red and Yellow stoplights are usually put in after a page is considered to be complete.
Note that while user pages are not typically protected, it is generally considered to be polite to obtain that user's permission before editing their personal page. If you have any questions, please ask one of the staff members for assistance.
---
---
---
Save different layouts for your base
Share attack and defense replays with your Task Force
New Blackguard Bases
See all update notes on the Version History page
---
Which of these do you come to the wiki for most?
Visit the Polls page for more polls and to see results from previous polls.
---
Tweets by @BoomBeachGame