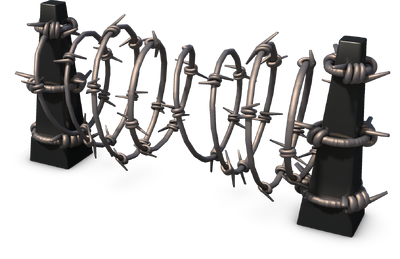 General Information
Barbed Wire is a defensive structure that only appears on the Forlorn Hope Operation.
Any troops walking in barbed wire will have their movement speed impaired and slowly lose health.
Barbed Wire has a base damage per second value of 80, but this damage is often increased by Ice Statues present on the power base.
Barbed Wire is an invincible structure; no Troops, Gunboat Weaponry, Hero Abilities or Sabotage can damage or destroy the fence.
Offensive Strategy
Trivia
The real-world Barbed Wire was invented in 1865 by Englishman Richard Newton.
It is the only building that cannot be destroyed.
Troops that come in contact with the Barbed Wire will turn a bluish tint until they cease taking damage from the fence.
Ad blocker interference detected!
Wikia is a free-to-use site that makes money from advertising. We have a modified experience for viewers using ad blockers

Wikia is not accessible if you've made further modifications. Remove the custom ad blocker rule(s) and the page will load as expected.